Your Personality Has One Primary Advantage.
It's how you add value.
It's what makes you different— and better.
It's the reason why you get hired.
When you communicate using this advantage, you earn more attention, and more revenue.
Now, for the first time, you can measure exactly how your personality adds unique value.
Introducing the First Science-Based Personal Brand Measurement
You've probably done assessments such as Myers-Briggs® or StrengthsFinder. This is different.
This test doesn't measure how you see the world...
It measures how the world sees you.
For $37, you can find out what kind of impression you're making with customers, clients, employees,
and peers.
After answering 28 short questions, you'll immediately receive your in-depth customized web-based report, including:
Detailed description of your unique advantages
Graphs and charts of your score analysis
"Warnings" of how you could be turning people off
Action steps
Eye-catching visual design
Personalized video from internationally-published personal brand expert, Sally Hogshead, explaining your personality archetype
Over 200,000 People Have Learned Their Advantage
The Fascination Advantage™ is the first science-based test for your personal brand.
It measures the highest and best use of your personal brand.
The test itself is simple and fast— it takes less than 5 minutes, and can be done on most cell phones. Yet make no mistake. The research behind this test is rigorous:
Six years of proprietary research
$450,000 invested in development
Original studies published around the globe
Identified 7 triggers of fascination and 49 personality archetypes
A brain trust of top experts in neurology, biological anthropology, sales, marketing, and body language
SHOW ME MY FASCINATION ADVANTAGE
How to Win the Moment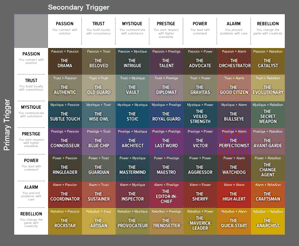 Every time you walk into a room, you make a first impression. Before you even open your mouth to speak, people have already formed an opinion about you.
What kind of first impression are you making?
From First Impressions to Lasting Value
Whether you realize it or not, your personality already has certain unique advantages. By understanding and honing your advantages, you can add more value at work.
Your Fascination Advantage report will clearly outline your unique advantages— and how to use them to propel your career, and your business. For instance, our research shows that when you use your advantage, people are more likely to like you, respect you, and buy from you.
You might already guess what your advantages are. Do you really know how others see you? Or are you missing a critical opportunity?
You can rise above the fray.
You can be heard, and remembered.
You can do it using your natural, hardwired traits.
And you can start right now.
PRICE: $37 each
QUANTITY DISCOUNT: Purchase 2 or more for only $29 each